Let's pretend it's Thursday for a second, mm k? Drum roll please... it's another first... it's...
AWKWARD & AWESOME THURSDAY!
Thought up by this
cute & clever lil lady
, awkward & awesome thursdays produce the most entertaining blog lists ever. And you know how I feel about lists.
(Or not, in which case, let me tell you, making lists provides me with the greatest sense of accomplishment in the world, even if nothing has been crossed off of it yet.)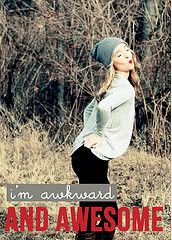 AWKWARD
Going to the bathroom at work at noon and realizing that all morning, your hair has looked like the hair of an escaped mental patient.
Losing the nice, new gloves your husband gave you for Christmas. One week after Christmas. Then re-buying them for yourself because they were your favorite gloves.
Going to a spa treatment (for which you have a gift card) at a posh salon in a posh area of town and pretending like your posh the whole time. And then turning the wrong way to leave after you pay and having to circle back past the counter again.
Correcting a superior during a meeting. You don't want to do it, but if you don't say anything and just let them make a huge mistake, then things get even more awkward.
Realizing you went to high school with the teller on duty at your bank, and saying "Did you go to Henderson?" and her saying "Yeah." and then you saying "Oh, I thought you looked familiar." And then not having anything else to say. And then leaving.
AWESOME
Making a s'more in the microwave for dessert. Or three.
Noticing that other people have the same addiction to Burt's Bees Lip Balm as me. One on your desk at work. One in your purse. One on your nightstand. One in your car (just in case). That's normal, right?
My new high-waisted pencil skirt from Forever 21. The price was awesome. And so was Tim's comment when I tried it on: "It looks like you actually have hips." I could get mad, but he was totally right!
The Bachelor is back! The show AND a previous bachelor, Brad Womack. So pumped!
I got my bonus check. Cha-ching!
Leave some comment love with your own awkward & awesome moments...